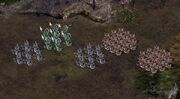 "I cannot understand their language, it sound unfriendly."
Andromeda is the 31st obtainable Hero. She is found at the 16th battle in the Land of Emptiness in the Holy Territory.
Andromeda, the daughter of king Cepheus and queen Cassiopeia; in Greek mythology it was considered to represent the vain queen Cassiopeia, who boasted about her unrivalled beauty so that offended Amphitrite.
Andromeda

Stats at lvl 1:

Power:
50
Agility:
40
Intelligence:
91
Command:
68
Soldiers:
234
Type: Magic



Command unit: [Chanter]


Skill: [Holy Light Summon]
Strike: None
Passive: None