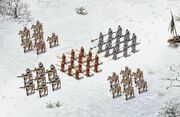 "Warriors! Revel in the strength of our cavalry! Come on!"
Arthur is the 9th obtainable Hero. He is found at 26th battle at Sword of Destiny in Ancient Constraint.
Arthur was the legendary King of England and the leader of the Knights of the Round Table. He was well respected and commanded knights that helped unite the British Isles.
Arthur

Stats at lvl 1:

Power:
75
Agility:
69
Intelligence:
34
Command:
74
Soldiers:
237
Type: Physical



Command unit: [Heavy Sword Armored Calvary]


Skill: [Shock and Awe]
Strike: 2.5x
Passive: [Evade]