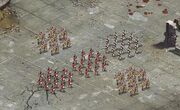 "Time to take care of this daredevil."
Emundo is the 12th obtainable Hero. He is found at the 18th battle of Road of Conquest in Ancient Observation.
As a senior general of the Crusader vanguard, he led his armies to attack the "Holy City" in 1099, but died in a counterattack.
He is largely unused due to his lack of AoE and useful status effects.
Emundo

Stats at lvl 1:

Power:
85
Agility:
71
Intelligence:
52
Command:
66
Soldiers:
233
Type: Physical



Command unit: [Redfist Warrior]


Skill: [Tear]
Strike: 2.5x
Passive: [Fight Back]