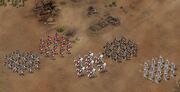 "I am just the graveyard guardian."
Guillaume is the 14th obtainable Hero. He is found at the 16th battle at Glorious Road in Ancient Observation.
As a senior commander during the 3rd Eastward Expedition of the Crusades, he successfully took the "Holy City" and pushed the expedition to a higher level.
Guillaume

Stats at lvl 1:

Power:
61
Agility:
55
Intelligence:
76
Command:
88
Soldiers:
244
Type: Physical



Command unit: [Palace Calvary]


Skill: [Sanction]
Strike: None
Passive: [Fight Back]