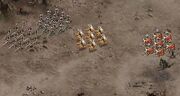 "My troops will crush yours."
Hannibal is the 4th obtainable Hero. He is found at 12th battle at Battle of Destiny in Ancient Constraint.
He was a famous strategist in Carthage, an ancient nation of North Africa. He swore to spend his life fighting against Rome. His well-known traits include his military and diplomatic abilities.
Hannibal

Stats at lvl 1:

Power:
65
Agility:
49
Intelligence:
29
Command:
51
Soldiers:
225
Type: Physical



Command unit: [Elephants]


Skill: [Striking Back]
Strike: None
Passive: [Evade]