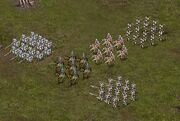 "I will personally guard the West gate."
Jochi is the 22nd obtainable Hero. He is found at the 28th battle at Khan's Pursuit in Riding a Horse into Battle.
Genghis Khan's eldest son conquered Jilijisi, Qianhe River and Shihe River; his father bestowed a kingdom of Kipchak Khanate upon him.
Jochi

Stats at lvl 1:

Power:
61
Agility:
52
Intelligence:
55
Command:
66
Soldiers:
233
Type: Physical



Command unit: [Cutlass Cavalry]


Skill: [Eradicate]
Strike: None
Passive: [Evade]