The Lucky Turning, or LT for short, is a game of chance where you can spend [Diamonds] and/or [Cash Gifts] for a chance to win items, resources and equipment. You can access the Lucky Turning by clicking the dice icon on the right side of the screen. Players get one free spin with the Small Package a day. Those players who are under a level 21 of Town Hall can use Small Package only. The results of every spin are announced by the Fairy Maiden.
Costs:
Small Package: 5 Diamonds/Cash Gifts
Midsize Package: 10 Diamonds/Cash Gifts
Big Package: 20 Diamonds/Cash Gifts
Darkness Package: 50 Diamonds/Cash Gifts
Drop rate
Edit
Data are given as a "ratio" and not as a %; the item chances should be the same, and probably is, but to explain this rate each item will be separated. The ratio is the same for all packages, of course the items are different.
Ratio
5:20:40:50:50:50:50:120:130:150:170:170:180:200:200:255
or
1:4:8:10:10:10:10:24:26:30:34:34:36:40:40:51
The values corresponding to
500 Cash Gifts, VIP, 5 Cash Gifts, item, item, item, item, prestige, item, Battle Achievement, item, item, item, item, wheat*, and lastly gold.
The higher the value is the more common the item is to be won.
Note: not all rewards have an equal chance. For example, in the Small Package you are much more likely to get 5 Cash Gifts then 500 Cash Gifts. In some instances, players report that Lucky Turning literally speeds up when almost upon the most valuable prize causing much complaint.
Small Package
Edit
Items
5 Cash Gifts
500 Cash Gifts
Fragments × 2
(Town Hall level × 100) Gold
(Town Hall level × 30) Battle Achievement
50 Prestige
VIP package for 1 day
Equipment (Level 22)
Midsize Package
Edit
Items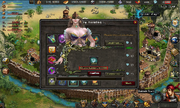 10 Cash Gifts
1,000 Cash Gifts
Stone of Spirit × 15
(Town Hall level × 200) Gold
(Town Hall level × 60) Battle Achievement
100 Prestige
VIP package for 3 days
Equipment (Level 35)
Big Package
Edit
Items
20 Cash Gifts
2,000 Cash Gifts
Fragments × 6
(Town Hall level × 300) Gold
(Town Hall level × 90) Battle Achievement
150 Prestige
VIP package for 7 days
Equipment (Level 63)
Darkness Package
Edit
Items
50 Cash Gifts
3,000 Cash Gifts
Stone of Spirit × 60
(Town Hall level × 400) Gold
(Town Hall level × 120) Battle Achievement
200 Prestige
VIP package for 30 days
Equipment (Level 80)