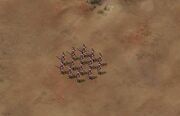 "Do not resist."
Mardonius is the 1st obtainable Hero. He is found at 6th battle at Core of Destiny in Ancient Constraint.
The Persian King Xerxes invaded and conquered Greece in 480 B.C. In this battle, King Xerxes' commander, Mardonius, fought fearlessly and victoriously.
Mardonius is the only non-main "archer" hero alongside [Jebe].
Mardonius

Stats at lvl 1:

Power:
51
Agility:
52
Intelligence:
47
Command:
62
Soldiers:
231
Type: Physical



Command unit: [Persian Archer]


Skill: [Shoot as falling stars]
Strike: 2.5x
Passive: [Evade]