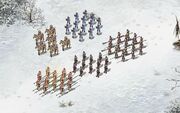 "I am a mentor, Sir."
Merlin is the 8th obtainable Hero. He is found at 16th battle at Sword of Destiny in Ancient Constraint.
As King Arthur's servant and advisor, Merlin experienced many adventures with his liege. He went on to become the greatest magician in the history of England.
Merlin still misses when his intelligence is over 130. More on that here: Merlin's Hit Rate
Merlin

Stats at lvl 1:

Power:
58
Agility:
47
Intelligence:
82
Command:
68
Soldiers:
234
Type: Magic



Command unit: [War Drummer]


Skill: [Pledge Curse]
Strike: None
Passive: None



Merlin
Stats at lvl 1:

Power:
58
Agility:
47
Intelligence:
82
Command:
68
Soldiers:
234
Type: Magic



Command unit: [War Drummer]


Skill: [Pledge Curse]
Strike: None
Passive: None