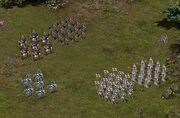 "Resistance is useless, it's your time to die."
Philippe is the 16th obtainable Hero. He is found at the 15th battle at Holy Road in Ancient Observation.
The King of the French Capetian Dynasty was respected as the "King of Dignity" and "Augustus". He was one of the commanders in the 3rd Eastward Expedition of the Crusades.
Philippe

Stats at lvl 1:

Power:
70
Agility:
81
Intelligence:
60
Command:
65
Soldiers:
232
Type: Physical



Command unit: [Heavy Pikeman]


Skill: [God of War's Wrath]
Strike: 2x
Passive: [Evade]